Article by Art Critic mrs. R. Klein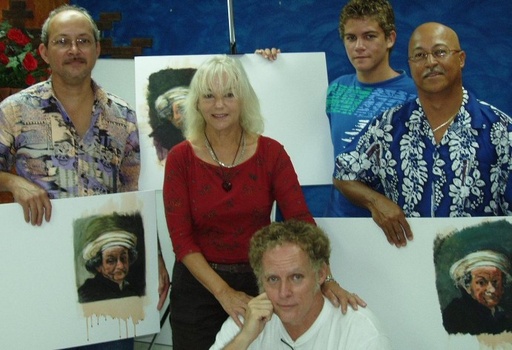 http://www.rnw.nl/caribiana/article/gustave-nouel-maakt-vorstelijke-kalender

From article by an art critic:

The artist and teacher Gustave Nouel

In modern society, there are very few living artists whose names are well known, but in Europe and the Caribbean, Gustave Nouel cannot be ignored. He produced such a large body of work and received so much critical acclaim that his paintings can be found in numerous well-respected collections around the world, and he has participated in over 200 expositions internationally, many of them one-man shows. Recognized by teachers from an early age as 'exceptionally talented' he received encouragement from the Aruban Government. 'Possessing extraordinary artistic talent' is how he is described by the Dutch Art Academy AKI, and was awarded an exceptional grant from the Central Government of the Netherlands Antilles to pursue his post university art studies and career in Madrid, Spain. His career took off with a one-man show in 1983 on the day he received his diploma after art studies at three Art academies in Holland. Afterwards he studied in Spain, post university art studies, and his works hang in the Madrid Municipal Museum, the Provincial museum of Madrid and the Cervantes Museum. Ever energetic and eager for a challenge, Gustave is lending his talents and knowledge to a number of workshops over the summer, for both residents and visitors. Last summer, Gustave conducted a very successful series of workshops at the Access Art Gallery in Oranjestad, and with the leading Art Magazine PALET for the last three years in Aruba. Actually he is realizing his new workshop series inspired by Rembrandt. Many that had wished to pursue art as a hobby or vocation found his guidance invaluable, and some even have gone on to have expositions of their own since then. 'I very much enjoy observing the pleasure it gives individuals when they are inspired,' reveals Nouel. 'It is surprising what talent is undiscovered, and I find it gratifying when people see what they are capable of, even though they never thought that they could do it.' His works are in the collection of the Royal House of Orange, and since he exploded onto the art scene in 1980 by being invited to participate in the Professional Art from Gelderland and Overijssel, Holland Exposition, his participation in top art exhibitions has been prolific and impressive. His entry was also chosen in 1986 to be painted on a 56-meter mural on the wall of the Olympic Swimming Pool Stadium in Madrid which he painted along with a team of international artist friends. Nouel presented his paintings at the World expo Sevilla in the Dutch pavilion in 1992 and at the Artexpo New York (USA) in 2000 Gustave Nouel's, impressionist/realistic technique is particularly strongest when he is doing portraits, a technique for which he has also become famous as artist and teacher. He has conducted workshops around the world, for students ranging in skill from beginner to professional. At the palace of the Spanish King during a reception from the Dutch Embassy around 1986, Nouel met Queen Beatrix for the first time. Also other members of the house of Orange inspired Nouel since then. The Prince of Orange he met more than once and he felt the energy of Maxima, while kissing her hand... In the last months of 2006 a design from Nouel for the Central Bank of Aruba gave him the privilege to meet the queen once more.
mrs. R. Klein